FT Global 200 executive pay DATASET 2015
In addition to purchasing the report Worldwide Executive Compensation 2015: Survey of FT Global 200 Companies, we are also making available the raw data (in Excel format) that informs our findings. This includes information on 1,339 executive and non-executive directors in 182 companies from 25 countries.
Making cross-country comparisons of complex executive remuneration packages in the world's largest companies in 25 different countries made it necessary to collect a multitude of different variables. In addition, companies needed to be further classified to make sure all data comparisons are like-for-like. What's more numerous currency conversions were necessary so all the data is presented in the original currency as well as in GBP.
As a result, the data includes over 150 columns including:
Company data – sector, turnover, market capitalisation, year-end date, number of employees
Director data – age, position, start date, part-/full-year
Actual salary rates
Directors' shareholdings and their value
Directors' headline pay amounts, realised pay and incentive awards (in both the original currency and GBP)
All headline remuneration figures (single-figure in the UK or equivalent) – salary, fixed allowances; benefits, annual and deferred bonus, matching shares, LTIPs, share options, pension payments, values and supplements, miscellaneous payments
All realised remuneration – salary, bonus received, shares and share options vested and exercised
Target and maximum bonus in monetary value and as a percentage of salary
Share and option awards – number of time-based awards, performance-based awards, matching awards, dividend awards, SARs, SAYE awards and the exercise and grant prices relating to grants and awards in the original currency and GBP
All such incentive awards expressed as a percentage of salary
Share and option awards that have vested and been exercised – number of time-based awards vesting, performance-based awards vesting, matching awards vesting, dividend awards vesting, SARs awards vesting, SAYE awards vesting and the exercise and vesting prices relating to the vested incentives making it possible to calculate the amounts realised in the original currency and GBP
All incentive awards and vested amounts expressed as a percentage of salary
Realised remuneration levels.
All fields are supplemented with comments to provide greater background to the findings.
Download a sample of our FT Global 200 executive pay data – FREE OF CHARGE
The complete dataset is available to purchase but to illustrate the quality of our data we have made available a subset of the whole dataset which can be accessed by clicking on the image below.
> Download Example_FT200_data.xlsx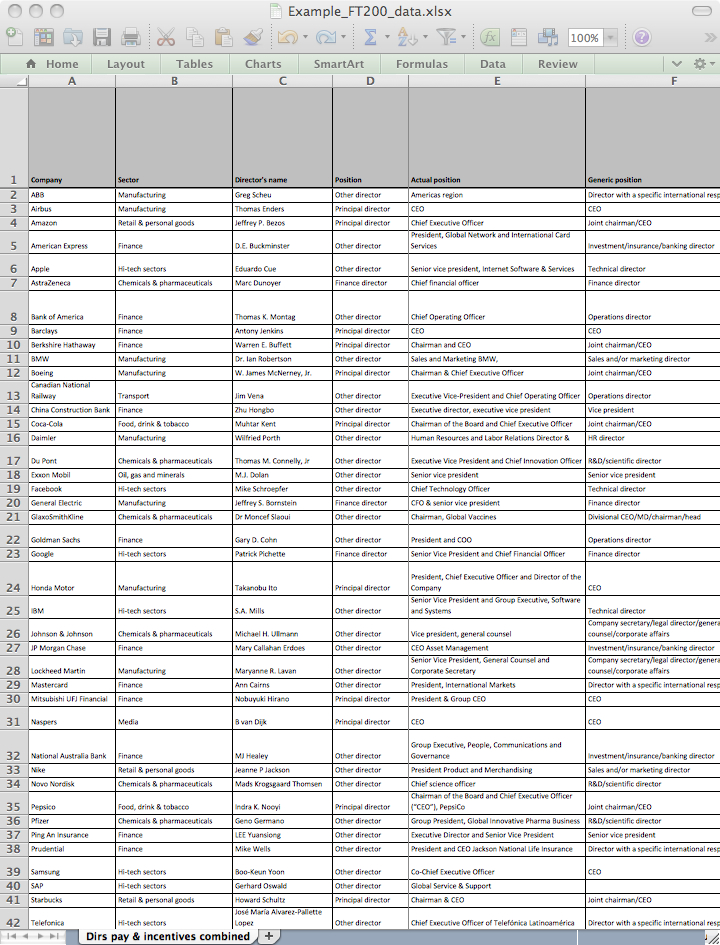 About the E-reward.co.uk research
Our survey of executive directors' remuneration in global companies extracted data from the most recently-available remuneration reports:
Data was taken from a variety of company reports including DEF 14A forms, annual reports and registration documents
Where data was missing or unclear we carried out supplementary online research to clarify or try to find data
We collected information on 1,339 directors and non-executive directors from 182 companies listed in the FT Global 200
Data came from 25 countries
Year-end dates ranged from 27 September 2014 to 31 May 2015 – with over 90% on or after December 2014
All directors featured in the analysis were employed for a full 12 months
Because of disclosure limitations, some companies or directors were excluded from parts of the analysis.
Want to know more?
Title: Worldwide Executive Compensation 2015: Survey of FT Global 200 Companies DATASET 2015
Published by: E-reward.co.uk
Format: Excel
Price: £750 + VAT (includes 95-page PDF survey report, worth £350 + VAT)
Buy Report