A New Remuneration Reporting Environment One Year On: Policy, Practice, and Implications


*** REPORT SOLD OUT ***

Far-reaching government reforms in executive pay – affecting the way that companies must report their directors' remuneration and how shareholders vote on it – came into effect in October 2013, with new legislation on remuneration reports for UK-listed companies.
Almost all companies have now made their first reports under the new regime. This new research project by E-reward.co.uk has examined the first batch of remuneration disclosures.Much of the guidance over the last year outlined how organisations should interpret the new regulations, but this study uniquely examines what they did do.
> Download our infographic [PDF]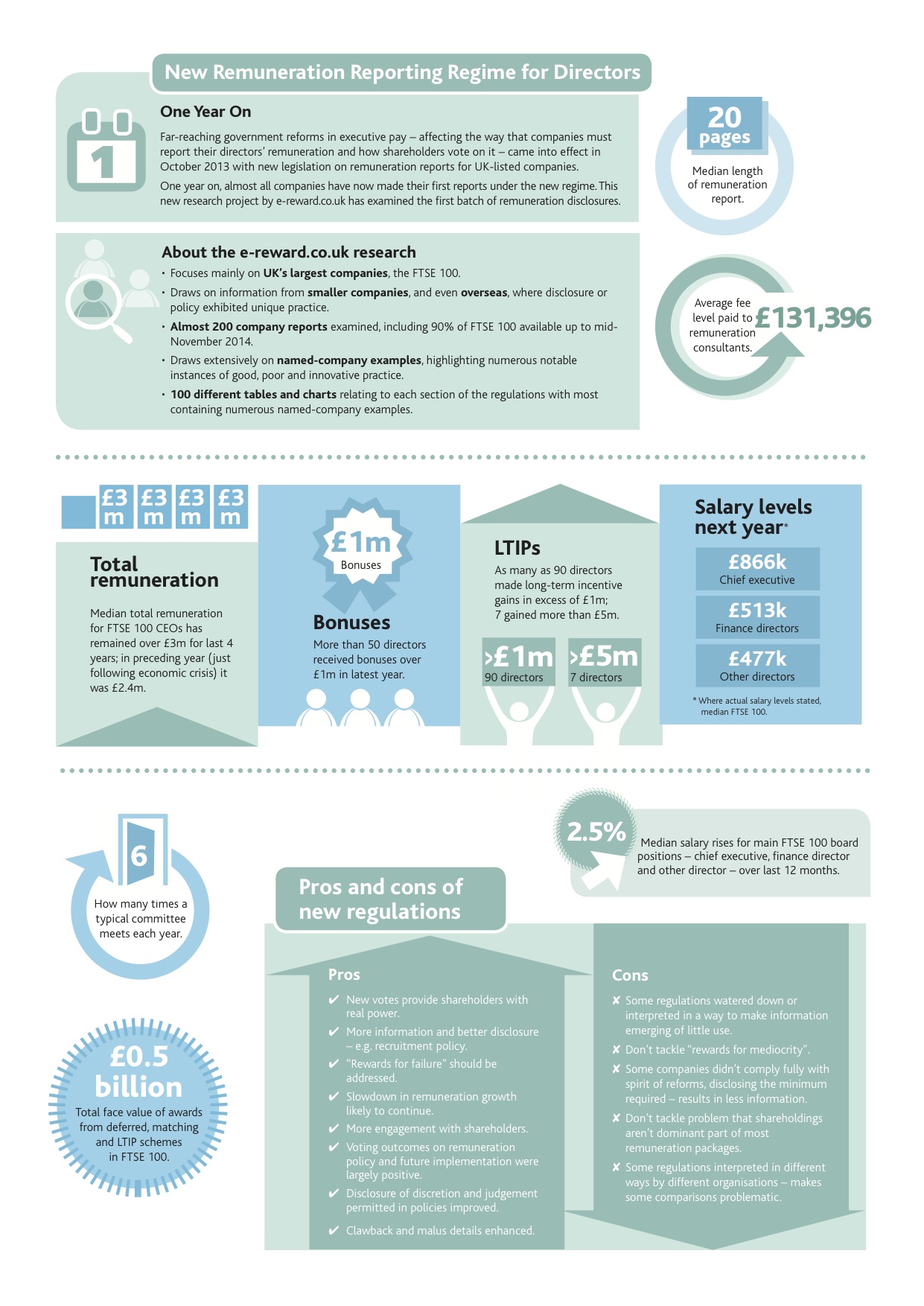 Organisations chose a whole variety of approaches making it clear that disclosure has some way to go before a consensus on best practice is arrived at and the policies themselves continue to evolve. Despite all the guidance available, organisations were provided with a reasonable amount of scope to interpret the different regulations and our report highlights how approaches varied, as well as outlining the more and less common forms of disclosure that were provided.
In addition to approaches to disclosure, the study illustrates how companies' policies vary with each element of remuneration. This makes it possible to build up a comprehensive picture of the latest reporting environment and the policies to emerge. Additionally, the report compares and contrasts how different companies approached disclosure under the new regulations and will allow you to understand the whole range of strategies used for each discrete element of remuneration policy – effectively to benchmark both disclosure practices and policy.
About the e-reward.co.uk research
Focuses mainly on UK's largest companies, the FTSE 100.
Draws on information from smaller companies, and even overseas, where disclosure or policy exhibited unique practice.
Almost 200 company reports examined, including 90% of FTSE 100 available up to mid-November 2014.
Draws extensively on named-company examples, highlighting numerous notable instances of good, poor and innovative practice.
100 different tables and charts relating to each section of the regulations with most containing numerous named-company examples.
Three-part research programme

The E-reward.co.uk research is published in three parts:
Part 1: Introduction and analysis (available December 2014)
Introduction to the new regime
Overview of the latest remuneration trends in terms of outcomes and policy
Discussion of the different approaches companies have taken to disclosure with examples of good practice as well as highlighting those parts of the regulations that appear to have fallen short of expectations and suggested improvements
Overall verdict on the success of the new regime, while outlining some of the implications for future policy.
A checklist summarises the range of approaches that companies used when disclosing all the main elements of remuneration policy that appear in the future policy table, as well as the corresponding institutional investor requirements.
Part 2: Annual statements and annual remuneration report (January 2015)
Examines all aspects of the regulations covering annual statements and annual remuneration reports.
Annual statements
Single total figure of remuneration
Total pensions entitlements
Scheme interests awarded during the financial year
Statement of directors' shareholding and share interests
Payments to past directors
Payments for loss of office
Performance graph and table
Percentage change in remuneration of director undertaking the role of chief executive officer compared to staff
Relative importance of spend on pay
Consideration of matters relating to directors' remuneration
Statement of voting at general meeting.
Part 3: Future policy, outcomes and implementation (February 2015)
Outlines companies' future policies, how the policies will be implemented in the coming year and the outcomes resulting from their implementation in the previous period.
Salaries
Benefits
Relocation
Pensions
Short-term incentives
Long-term incentive plans
Share options
Clawback and malus
Discretion and judgement
Choice of performance targets
Non-executive directors
Recruitment
Service contracts and loss of office policy
Illustrations of application of remuneration policy
References to other staff
Consideration of shareholders' views.
Want to know more?
Title: A New Remuneration Reporting Environment One Year On: Policy, Practice, and Implications
Published by: E-reward.co.uk
Pages: 170 pages in total (80,000 words)
Price: SOLD OUT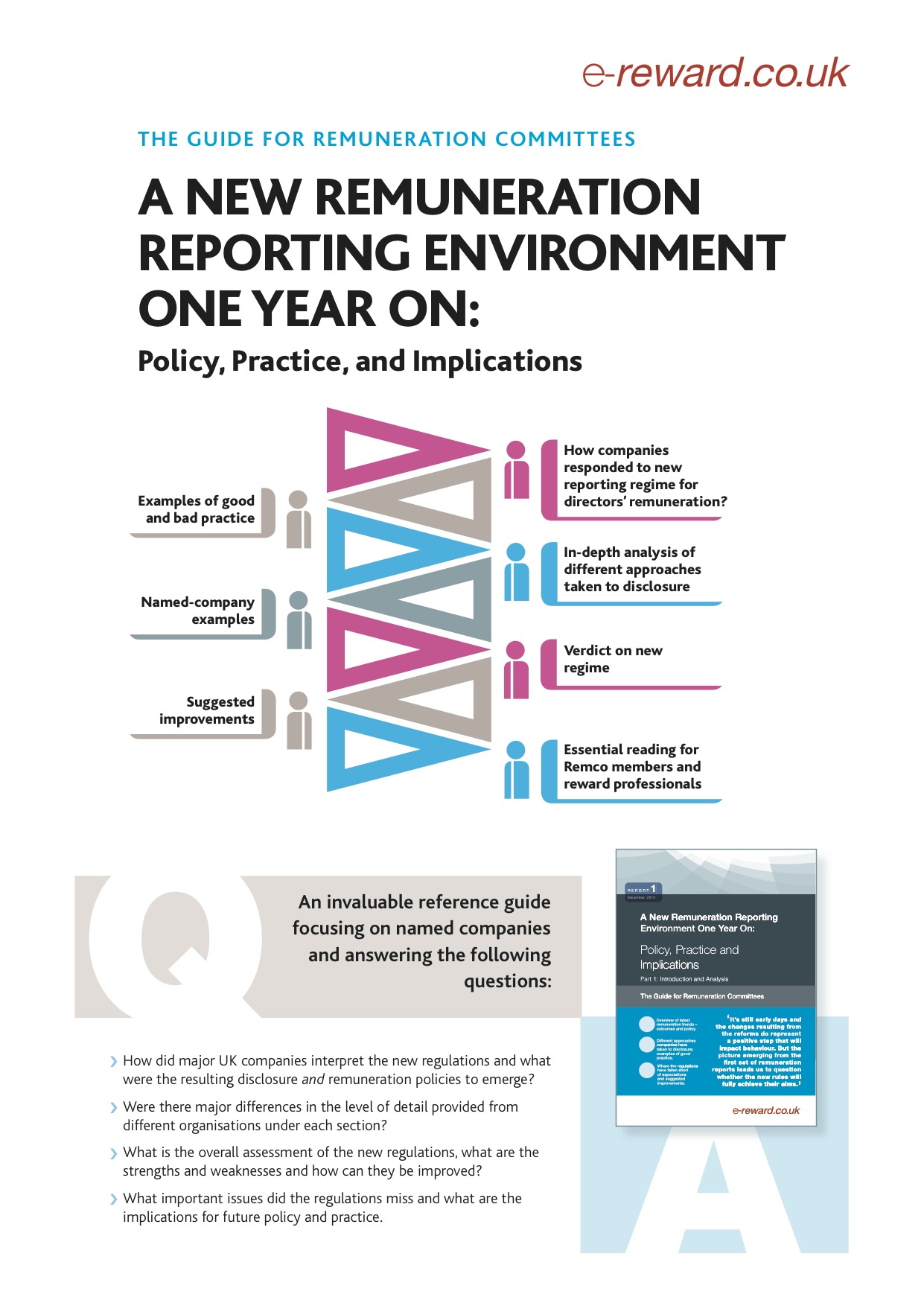 Buy Report